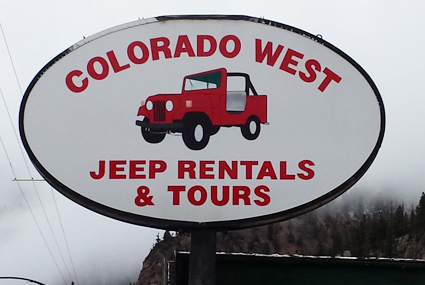 Colorado West Jeep Tours and Rentals is located in the heart of the San Juan Mountain in Western Colorado. Our convenient location at 701 Main St. makes it easy for you to come in and talk to us in person. Our friendly staff will assist you in selecting the best tour or the appropriate trail for you to drive on in one of our new Jeep Wranglers. Colorado West Jeep Tours has the oldest permits issued by the State of Colorado. We have enjoyed a great reputation for safety and presentation of enjoyable tours in the magnificent San Juan Mountains.
Our guides are fun, knowledgeable, and very safety conscious. Many of them return year after year. All tour vehicles are inspected annually according to the State of Colorado's Public Utility Commission. Each vehicle holds up to 12 passengers and is equipped with rain gear, lap blankets, and first aid kits.
Colorado West Jeep Rentals, Inc operates on the Grand Mesa, Uncompahgre and Gunnison National Forests under special use permit from the Forest Service, USDA. All or parts of the operation is conducted on Public Lands with a special permit from the U.S Bureau of Land Management. Our tour vehicles and drivers are regulated under Colorado Public Utility Commission permit PUC-3.
About the owners
Colorado West Jeeps Rentals, Inc. was incorporated on June 4, 1984 by a group of local Ouray businessmen to fulfill the demand for tours in the San Juan Mountains. Bob Burdick was hired as a tour driver and in 1992 he purchased Colorado West Jeep Rentals, Inc.
In 2012, after a life changing accident, Bob sold Colorado West to his sister, Judy Lindberg and her son, Jeff Lindberg. Judy and Jeff operate Colorado West with the help of other family members to continue to offer excellent customer service striving to make your vacation a very memorable experience. When you leave Colorado West Jeeps, we want you to feel like you've been treated like family!
In 2019 Judy and Gary have stepped back a little more, with a more limited role in Colorado West.  You may see them throughout the season as they enjoy spending more time with grandchildren.  Jeff and Kathy continue to operate with the same family values that have been with Colorado West since Bob Took over in 1992.
Colorado West has had the same tour guides for over 10 years.  Welcoming them back for 2022.  Don, Ken, Steve, Hal, Barry and Rich …of course Jasper keeps the vehicles in shape. Returning again this year Jeff and Kathys Daughter and Son in Law(Kaylyn and David) will be back to work the office and daily duties.  Also for 2022 Kurt and Sheilagh will be back in late season to help.  Kurt is an excellent jeep washer, and Sheilagh…well, her charming personality and frequent dance moves keeps us all entertained.  Welcoming the next generation, Kaylyn and David are bringing their brand-new baby Ella (Jeff and Kathys 1st grandchild).   Looking forward to meeting our regular customers and of course welcoming new customers to the family.
Ride with the best – Colorado West!